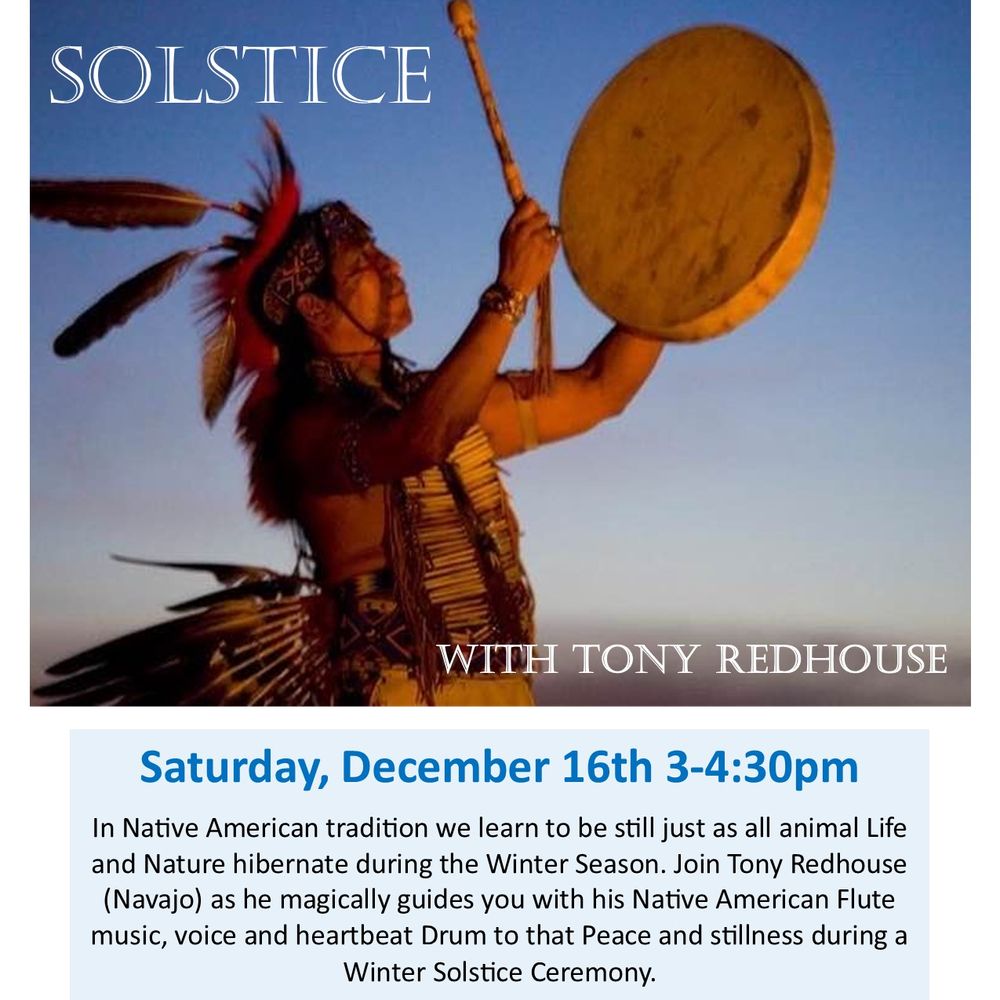 Winter Solstice Ceremony
Tony Redhouse
At Yoga Connection Tucson, Arizona
(520) 323-1222
$30
Go to www.yogaconnection.org for more details
Tony Redhouse wins Best New Age Recording 2009 Native American Music Awards
"Harmony of East & West" -Tony Redhouse 2013"Release All That I've Ever Known" -Tony Redhouse 2012"Deep Within" – Tony Redhouse 2008"Soul Blessings" – Tony Redhouse (invinciblemusic.com) 2003"Journey to the Four Winds" – Tony Redhouse  2001
Deep Within
, winner of the Native American Music Awards, 'Best New Age' (2009). "Deep Within" invites you to the calming presence of the Spirit, with the Native American Flute, Drum and Voice. In this is a Double CD set,  Tony's shares a narrative of positive affirmations and traditional wisdom along with his healing music.  The second CD contains the soothing meditative music that is popular with Yoga  group classes and during individual sessions with Reiki/Healing Touch/ Massage therapists and psychotherapists. Tony's heartfelt music guides you to that simple Truth and Love that are so beneficial for those seeking clear direction during transition, recovery and renewal in life. He has shared his music and spiritual teachings with Substance Abuse recovery clients, Cancer patients, Native American HIV/AIDS groups, children affected by terminal illness or the loss of parents/loved ones and Hospice patients.
Journey to the Four Winds
 is a Native American spiritual and musical passage through the four stages of life. Tony Redhouse summons the most ancient forms of musical expression, the voice, the flute, and the drum to create images of animals and nature to greet you along the path. In the traditional Native American Circle of Life, there are stages of birth, development, realization and reflection, for each of these stages; Tony provides musical settings that will evoke emotions of wonder, joy, courage and peace from within you.
Musicians:
 Tony Redhouse: Vocals, Native American wood and bamboo flutes, Indigenous drums & percussion Instruments: Vocals, Native American wood and bamboo flutes. Native American drum, oak slat drum and various instruments made by Tony Redhouse. Bali gong, Thai button gongs, opera gongs, wind gong, key chimes, wind chimes, bar chimes, barbells and hand cymbals, India brass bells, ting shas, camel bells and tablas. African Idi, Ideh, togo seed rattles, oji, dagara xylophone, adodo bells and talking drum. Brazilian rainforest bird whistles, caxixis and cuica drum. Peruvian rainstick, Mayan cascabeles and death whistle. Conga drums, vibra slap, spinner, ocean drum and Chevy hubcap.
Collaborations
:
"Pyoor Native American"
 Umberto Marzotto (Sony Records) 2011, congas, percussion, vocals
"Radiance"
- Dev Suroop Kaur, (Anahad Productions) 2006, congas, percussion, vocals
"Escape"
 – Ric Flauding (Ric Flauding) 2003, congas and percussion
"CPR Orchestra"
 – Chicano Power Revival (Rrrr!Music) 2002, congas & percussion
"One in Goddess"
 Antion Vikram Singh (Ant-E! Music) 2002, congas & percussion
"Carry Us Home"
 – The Peace Family with Snatam (spiritvoyage.com) 2001, congas & percussion
"Narayan"
 – Dev Suroop Kaur Khalsa (Anahad Productions) 2001, congas & percussion
"To Heaven and Beyond"
 – The Peace Family with Snatam (spiritvoyage.com) 2000, congas & percussion
"Reunion" 
- The Peace Family with Snatam (spiritvoyage.com) 2000, congas & percussion
"Native Flamenco"
 – Romero, Cody, Redhouse (Canyon Records) NAMMY AWARD Best Latin Recording and Best World Music Recording 1999, congas & percussion
"Voices of the People" 
- Lynn Lynton (Fresh Thyme Music) 2000, Various Dine Traditionals, Native American Flute
"Ghosts of St. Augustine"
 – Darryl Tonemah (Tonemah) 2000, congas & percussion
"Maze" 
- Cody, Wallace Redhouse (Canyon Records) 1998, NAMMY AWARD Best New Age, congas & percussion
"Urban Indian"
 – The Redhouse Family Jazz Ensemble (Canyon Records) 1997, congas, percussion & voca